hi my name is Chanel I'm 28 years old I am a HUGE fan of Lauren Graham,Scott Patterson and Gilmore girls.I'm from Canada I speak both french and english.I love my family,my friends,my computer lol.Gilmore Girls is the best show I've ever seen and I watch it many times a week.I think I even start to bug poeple with it but hey ask me if I care

.I have some sort of passion for music and other languages and I feel

right now.

Glad I found this forum I love chatting about Gilmore girls.




Number of posts

: 2


Age

: 38


Registration date :

2008-01-27



Hello Lauren Graham Rocks!

I'm glad that you found this forum too! I can't wait till we get more members on here chatting about the most awesomest show ever!

I am with you on the interest in languages. I speak Spanish and English at the moment, but I'm working on learning to speak Mandarin Chinese.

How's Canada treating you?

Oh, and I watch Gilmore Girls episodes at least a couple of times a day, and I talk about them endlessly with friends, family, and with my boyfriend. They get frustrated with me too, but that won't stop me lol.

Can't wait to get to know you more!
Admin




Number of posts

: 213


Age

: 30


Registration date :

2008-01-26



Hey everyone!
My name is Carly. Gilmore Girls is only the best show ever. So sad they're not making anymore seasons.

None of my friends watch the show so I have nobody to talk about GG with! I've been looking for a fun place to chat! Glad I found it here!
Love-
C-Rok



Number of posts

: 3


Age

: 29


Registration date :

2008-02-12



Hi Carly!

Thanks for coming to Gilmore Girls Land! I hope you enjoy your time here:) and that you keep coming back for all the cool things coming up soon!

I agree with you, it is sad that they stopped making the show, and that you don't have anyone to talk to about GG ... that sucks! Well, here you'll have me and everyone else who joins in to chat about whatever you'd like relating to Gilmore Girls, and even to other topics!

Have fun!
_________________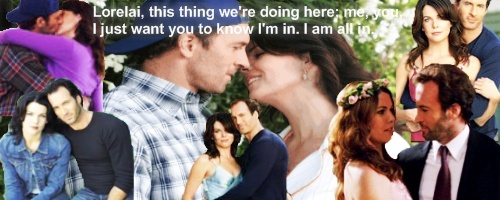 Gilmore Girls Land
http://gilmoregirlsland.justgoo.com
Admin




Number of posts

: 213


Age

: 30


Registration date :

2008-01-26




---
Permissions in this forum:
You
cannot
reply to topics in this forum