Are you mad that there wasn't a season 8 of Gilmore Girls? Or were you satisfied with what we got?

If there was a season 8, what do you think should have happened?

Go ahead and write your own season 8 episodes if you'd like here!
_________________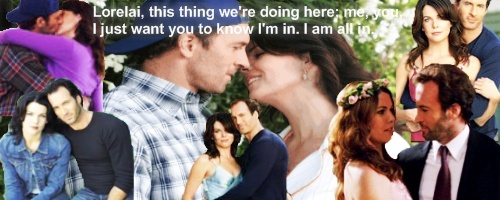 Gilmore Girls Land
http://gilmoregirlsland.justgoo.com
Admin




Number of posts

: 213


Age

: 30


Registration date :

2008-01-26



Yes I was mad that there was not a season 8. I was not satisfied with the end of season 7 it was a cliff hanger and left soo many unopened questions. For season 8 I think it should of like opened up maybe with like Lorelai sulking in bed because she misses Rory. Then the phone rings and it's Rory crying to Lorelai that she hates where she is so much already that she ends up coming back home to relize that shes not ready to work.she wants to hangout and Lane, the boys, and her mom. She works at the inn for a while helping out Lorelai with big events while still writting her articles like she uses her laptop alot to submit stuff to the online magazine still and gets paid for it. She then relizes that she still misses Logan and wants to be with him still but she can't show her mom that shes miserable without him. Then Rory breaks down and Lorelai is like you have got to let him go kido and get over it because there are a million more men out there you will find the one someday and lets her wallow. I think Lorelai should ask Rory the truth of why she's so emotional and Rory finally says mom I'm pregnant and it causes like drama for everyone.Maybe something will happen in stars hollow that causes alot of drama as well. I think the end of the season should be Luke and Lorelai's wedding. What if Logan comes back and tries to propose to Rory again in a more private location with just like Lorelai, Luke, maybe Chris, Lane, Zach, The Gilmore's and maybe Sookie and Jackson present and she tells Logan that she's pregnant and yes it is his and that he's going to be a daddy and he is really happy that he will finally have a family but she has one condition that he must give up the job in Cali because they have to live in Stars Hollow because she cannot live anywhere
else and wants to be close to Lorelai.



Number of posts

: 1


Age

: 31


Registration date :

2008-03-05



Sorry had to make a few corrections after I posted it. I think that there should be a season 8 and that Rori should come back ,but still summit papers. I think Rori should work at the Dragonfly and tell her mom that she is pregnant. I think that Logan should quit his job to go beg rori to marry him and Rori say yes and tell him about the baby. I do think the season should end with Lorelai and Luke's wedding, but that causees a lot more cliffhangers so if they were to end it like that then there should be a season 9. Then that season could have Lorelai and Luke planning Rori and Logan's wedding. Then Lorelai should tell Luke that she imight be pregnant and that she is going to the doctor's to make sure.They never should of ended the show because there are so many things that should be told.



Number of posts

: 7


Age

: 23


Registration date :

2008-03-16



sry but rory should not be pregnet!



Number of posts

: 3


Age

: 23


Registration date :

2008-04-17





Similar topics
---
Permissions in this forum:
You
cannot
reply to topics in this forum